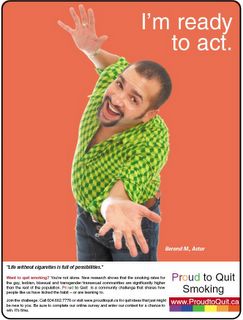 Proud to Quit

A new stop smoking effort for the gay, lesbian, bisexual and transgender / transexual communities has been launched in Vancouver. People outside Vancouver can also take part. Check it out at

Proud to Quit




"I am going to try again to quit. March 1, 2005 is Quit day. I will let you know how it goes, hopefully that does not mean rants! You can help perhaps, let me know how you or a friend quit. What did they do in that first week? How did they manage? " -

Rick
Read about Proud to Quit below...



"Life without cigarettes is full of possibilities."



Want to quit smoking? You're not alone. New research shows that the smoking rates for the gay, lesbian, bisexual and transgender/transexual communities are significantly higher than the rest of the population.



Proud to Quit

is a community challenge that shares how people like us have kicked the habit – or are learning to. Join the challenge. Call

604.662.7776

or visit

http://www.proudtoquit.ca

for quit ideas that just might be new to you. Be sure to complete our online survey and enter our contest for a chance to win. It's time.