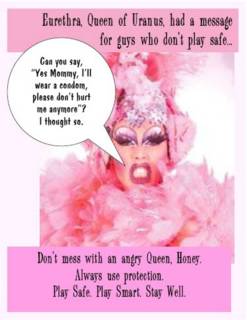 Play Safe Postcards, they are free, funny and
fabulous. Available from:
Victoria AIDS Resources and Community Services Society
.
Tell them Queer Thoughts sent you. I am on the
Board of Directors there so would love it if you
wanted one or two or more! VARCS is also the
Best Little AIDS Agency in Canada.
Check them out and see what they do with
$100,000 each year. 3 full time staff, volunteers
and over 56,000 needle exchanges each year
via a mobile exchange.